Gratitude journal prompts provide perfect inspiration for writing gratitude lists, which are a fantastic addition to your regular journaling practice when it comes to increasing positivity.
Daily Gratitude Journal Prompts to Increase Positivity and Balance
Daily gratitude journal prompts are great for every day of the year, but today is Positive Thinking Day, so I'm sharing for the day dedicated to positivity!
As somebody who appreciates the power and influence of positivity when it comes to our moods, I surround myself with as many positive prompts as I can, so I'm including a few other ideas too.
If you journal already then these positive journal prompts for self discovery and wellbeing are perfect to add to your practice. And if you're new to it, gratitude journal prompts are a perfect introduction to journaling, focusing on the concept of this special day and helping you to appreciate the good in your life.
What is Positivity?
Positivity is the inclination towards optimism rather than pessimism. It's not about believing everything will always be wonderful, but understanding that there is good and bad in all aspects of life, and that it's within our control to notice the good more than the bad.
We simply need to make the decision to seek out and focus on the positives in our lives.
Gratitude and How It Can Change Your Life
In the last few years, I've been very focused on living a more positive life. The foundation of the required mindset is appreciating what you have instead of focusing on what you don't, and writing down those reasons is a valuable and fortifying process.
I've never been a great diary writer, but keeping a simple journal in which to jot down ideas, inspiring thoughts, and reasons to be grateful is very powerful. The way I do this is via simple lists, noting down some of the many things I'm grateful for, and prompts can be really helpful for inspiration for this.
What Are Positive Prompts?
If you're keen to give this process a whirl but you're unsure of what to write, that's where journaling prompts can be really useful – they give you cues to get your creative juices flowing, and the ones I've included below are specifically designed to be focused on increased optimism and feelings of wellbeing.
Using gratitude journal prompts for positivity can be a really powerful way to alter your outlook for the better.
Incidentally, this is something I've started to do with Pixie each day too – and I cannot overstate the wonderful influence it's having on her.
As the exercise fosters a more content temperament, I'm watching her flourish.
Other Types of Positive Prompts to Increase Mindfulness
Having a CMPA baby with colic featured as a rather impressive blip for my own mental health – those early months really tested me to my limits – but since we've come out the other side, I'm determined to remain upbeat with a positive outlook.
The work I've done on myself since shaking (for the most part) the debilitating postnatal anxiety I suffered has been life-changing. My default disposition is now optimistic – but I like to surround myself with prompts to help keep my focus, such as this (previously gifted) Think Positive necklace.
With my children getting older and my life changing, I want to make it the best and most fulfilled it can be! And not being complacent about my mental health is critical – we're all fallible and sometimes a little nudge to stay away from negative thought spirals can be very welcome. Personally, I find having a reminder that's with me all the time really beneficial.
Positive Prompts Help to Refocus Your Mindset Towards Positivity
Which is why I'm in love with these pieces of positive affirmation jewellery (previously gifted). I wear them every day and they remind me to be thankful.
This form of positive mindfulness is the single most beneficial thing I've done for myself in terms of my personal wellbeing; it's transformed my mental health for the better.
Gratitude Journal Prompts For Increased Wellbeing and Promote Positivity
In my experience, practicing gratitude is the single most powerful way to increase positivity. It has changed my outlook, and my life.
If you're interested in journaling but are unsure where to begin, you may like to read my post about getting started with mindful journaling first.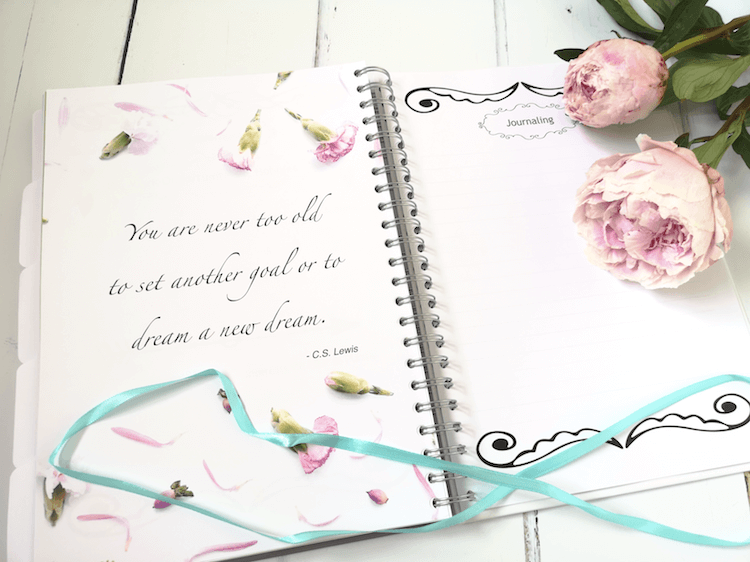 Or jump straight in with this list of positive journal prompts I've put together to help get you started!
50 Positive Prompts For Journaling
To get started I recommend pouring yourself a cup of your favourite hot drink and setting yourself up somewhere comfortable. You may like to play some calming music and light a favourite scented candle, or cosy up under a fluffy blanket.
Wherever and however you choose to journal, the process should be made into a welcoming ritual that you'll want to return to regularly, ideally each day. Create an environment that evokes feelings of bliss and cultivates a desire to make journaling an established routine!
When you're ready, simply jot down anything that springs to mind in response to the following statements…
Gratitude Journal Prompts For Increased Happiness
I'm grateful for…
My favourite things about myself are…
My five favourite smells are…
Five of my happiest memories are…
5. My happy place where I go to feel calm, balanced, and at peace is… Create a plan to visit regularly.
My favourite tastes are…
Name the people in your life who make you happiest.
My three most precious possessions are…
List five songs or pieces of music that make you smile.
Positive Journaling Prompts For Improved Wellbeing
My favourite thing to do when I'm feeling stressed or anxious is…
My favourite exercise is… Make a plan for when you can next do this.
The favourite person to confide in is…
Write a reverse bucket list of things that do not serve you that you're going to stop doing.
14. The most special gift I've ever received is…
My favourite three books are…
Write down three books you will read in the next six months.
My favourite forms of self-care are…
The person who makes me feel safest is…
My favourite feel-good movies are…
Write down three promises to yourself to improve your personal wellbeing.
21. Write down three simple pleasures that you can work into your week, every week.
Positive Journal Prompts to Boost Self-Esteem
22. The kindest thing I've done this week is…
Write down two things that make you feel beautiful.
Write down how you could support a friend or relative tomorrow.
I'm proud of myself for…
My body is brilliant because…
Three things I'd like to learn in my lifetime are…
28. The best compliment I've ever received is…
My greatest achievement so far is…
My best qualities are…
Journal Prompts For Self Discovery
Write down a secret about yourself that you'd like to share with somebody.
Describe yourself, and how you can improve any perceived flaws.
Name five things you'd like to achieve in the next year.
34. The greatest lesson I've learned from a mistake is…
I wish I was brave enough to… Think about what you can do to make it happen.
If I could give my younger self one piece of advice it would be…
Write a letter addressed to yourself at the hardest time in your life.
Journal Prompts For Positivity
My favourite flowers are… Perhaps make a promise to yourself to treat yourself to these every week, month, or however often is reasonable. Even better, if realistic – grow them yourself!
39. My favourite proverb / motto is…
My favourite flavours are…
My favourite hobby is…
My favourite colour to wear is…
The person who has the biggest positive influence in my life is…
Write a bucket list of places you'd like to visit in your home country.
…And abroad.
45. The wisest piece of advice I've ever received is…
List 3-5 things you would change to make the world a better place.
Write down just one way you could turn one of these dreams into a goal.
My favourite, place in the world is…
Make a list of all the things that make you feel balanced, worthy, and positive that you can refer to when you're having a crisis of confidence.
The best ways I can increase positivity in my life are… Consider what things in your life contribute to your mental wellbeing and positivity and how you can incorporate more of them into your life.
Journaling doesn't have to be time-consuming or complicated – you don't need special tools or equipment – a pen and pad is sufficient. Although I love using gorgeous stationery myself and using the experience as a form of self-care!
Have I missed anything? What positivity journal prompts would you add to my list?