I'm Kate, the writer behind Refined Prose.
When I began this project shortly after getting hitched, I had no idea it would become my 'other baby'. I'm incredibly lucky to have found a hobby I love that has surprised me by developing into a full-time job.
With hindsight, it's no surprise really – psychology is what makes me tick, and writing has always been my vocation.
About Refined Prose
What started out as family-focused blog to keep me sane in the early days of parenthood, has been with me as I've grown; and Refined Prose has evolved too, into what it is today.
It's been a totally organic process, and has led to my absolute faith (anecdotally) in the incredible power of actively practicing gratitude, later validated by research*.
I started writing weekly gratitude lists on the blog at a time when I was struggling with anxiety and, over time, they changed my outlook completely:
I started writing weekly gratitude lists on the blog at a time when I was struggling with anxiety and, over time, they changed my outlook completely:
I went from a dreadful cynic to becoming very positive, and have watched my life blossom as a result.
*Research, Studies, and Evidence
Incidentally, it's really important to me that the people who read my blog trust the information I share. I always fact check and cite or link to relevant studies and research where possible.
This applies to all content, across the board, in every category, including wellbeing, journaling, and mental health – but also pregnancy, breastfeeding, and CMPA.
So, you'll still find plenty of parenting content, but over time the emphasis has been redefined according to my values. (See what I did there?)
Though I still write about family, these days you're more likely to find me waxing lyrical about self-improvement, personal growth, and the joy of journaling.
This is not because my priorities have shifted; it's because they're exactly the same:
To promote mindfulness and gratitude for a more appreciative life – particularly in and of our children; to champion gentle and supportive parenting which models the behaviours we wish to foster in our little ones.
In order to do the best job I can as a parent, my own mental health has to come first. Besides which, many of the fantastic strategies I'm learning about and sharing on the blog can be adapted to work for children too.
Journaling in particular is an excellent tool to help children learn to regulate their emotions and increase resilience in kids.
A Note About My Muses
I'm married to a wonderful man. He's my greatest champion, and his patience is boundless.
And now we also have our little 'Pixie' and 'Elfin', who keep us on our toes and bring sunshine into our lives every day. I couldn't possibly have known it, but life before our daughters was greyscale.
They paint everything they touch with rainbows.
Contact & Work With Me
You can reach me using any of the following methods:
About the Resources Library
During the Christmas period of December 2019, I took my foot off the pedal just a little for a well-deserved rest… And immediately decided I wasn't busy enough!
By the middle of January 2020, I'd launched my little online store selling a couple of journals and my popular diary, designed for mums breastfeeding through CMPA.
With the new direction of Refined Prose, I've since taken the decision to close the shop and make all digital products absolutely free to subscribers! You can access all printables by signing up here:
Here's a little sneak peek at my adult's journal (now split up into free printables available in the resources library):
A Diary For Nursing Through Allergies
Elfin was born with CMPA and is still dairy-free now at four years old. The first year was a very difficult time for us (and we've had challenges since too!). But to try to find a positive from our situation, I've used everything I've learned and written about it in what I hope will be helpful guides for other parents, such as this milk ladder FAQ.
These make up some of my most-read posts, and I'm thrilled to be able to support parents in that way.
If this is your reality right now and you are feeling lost or lonely, please reach out. I'll always try to help if I can.
I created this allergy and breastfeeding food diary specifically with nursing mums in mind because I'd have loved such a product when I was going through it myself: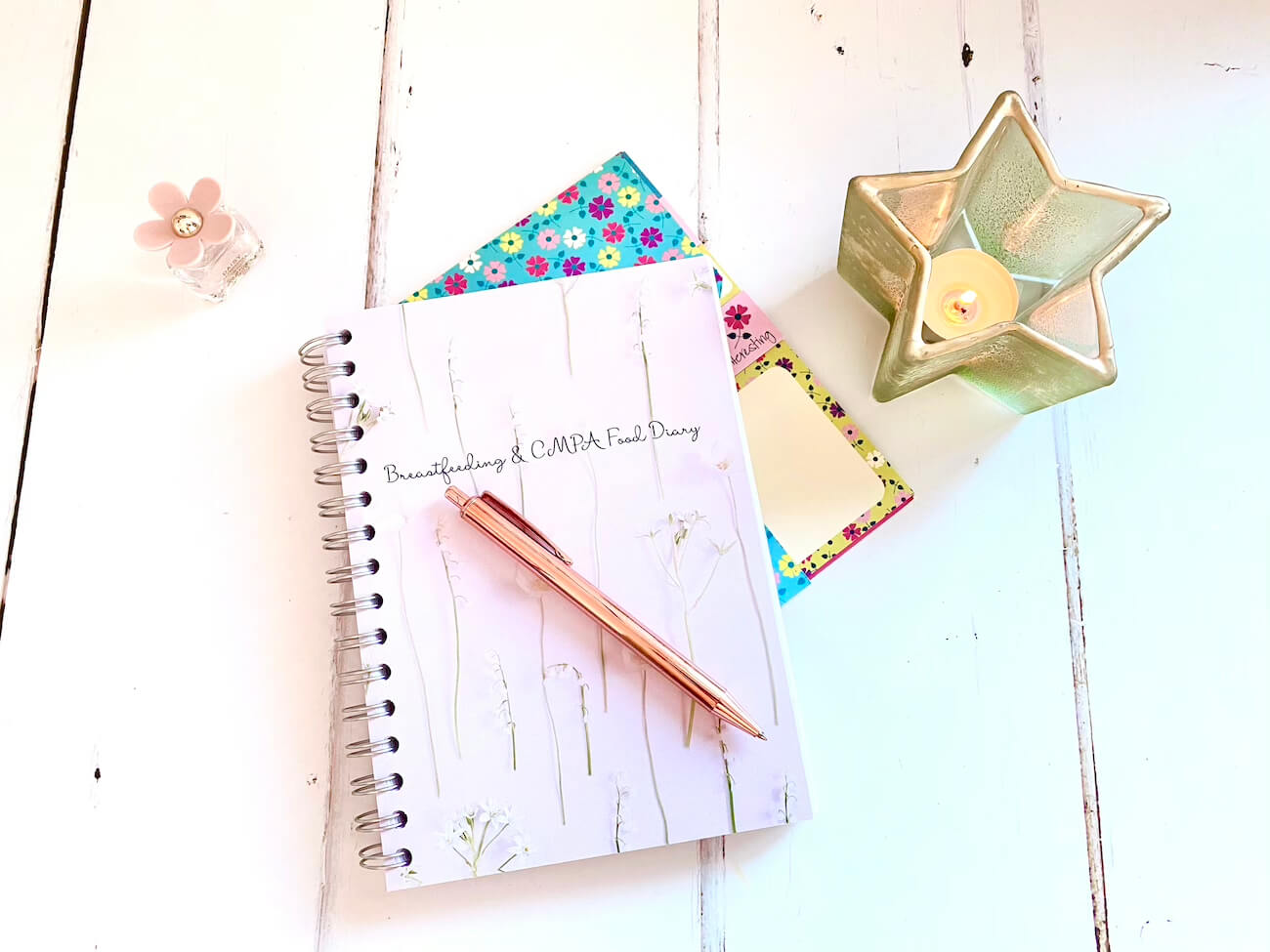 Disclosure
Sometimes I'm sent bits and bobs for review purposes. It's a nice perk of what is actually a very demanding job.
However, you can rest assured that above all things pretty, sparkly, tasty, divine – the integrity of my blog will always remain my priority.
Yep, even if I had Tiffany banging on my virtual door – still my integrity and the blog.
(Luckily, I hear they have fab products and customer service, so there should be no issues if a Tiffany PR-type is reading this; and yes, it would be my pleasure to review one of your beautiful pieces.)
Proud Amazon Associate
As an Amazon Associate I earn from qualifying purchases.
For full disclosure please visit here.