Vintage wedding dresses are a popular style which will seemingly always remain a popular trend. But which vintage looks should you follow to create an authentic look? This post looks at fashions through the decades to help you define your preferred look, and also provides suggested shops to browse wedding items for your chosen era.
When I got married myself, my dream was to embody 1920's glamour, and I wanted authentic touches to pepper both my outfit and the decor.
Your Guide to Vintage Fashions Through the Decades
However I struggled to find accurate information covering all the details to help me pull together and achieve my vision – and even when I knew what I was looking for, pinning down those elusive items became a bit of a headache. So I've written this guide to help others who are planning their own vintage weddings.
How to Apply Vintage Trends to Your Wedding Outfit
This post covers everything from vintage wedding dresses and accessories through the decades, to all the finishing touches which, collectively, will ensure you pull off your desired vintage vision with elegance and aplomb.
1920's Vintage Wedding Fashion
Vintage wedding dresses embodying the flapper era are elegant and ornate, with dropped waists and necklines, and plenty of embellishment. The typical style includes lace heavily embellished with beading.
1920's Wedding Hair
The flapper hairstyle was a short bob with a severe fringe, cut straight across.
Alternatively, women wore their hair a little more femininely with soft finger rolls, ornamented with feathers and bejewelled with clips or combs – and, of course, extravagant headbands or hats, often including a veil.
1920's Wedding Make-Up
As with all other fashions of the twenties, make-up was also extravagant.
After the loss of so many men during the Great War, there was fierce competition among ladies to find themselves a husband.
Porcelain skin; kohl eyeliner; emphasised bow-shaped lips; heavily applied blusher: exaggerated make-up was a product of the rivalry between young women of the era.
1930's Vintage Wedding Style
Depression era 1940's saw less opulence than the previous decade. Wedding dresses were plainer and made from cheaper fabrics which could be dyed and worn again.
1930's Wedding Hair
As the flapper style waned, hair in the thirties softened. The severe fringe disappeared, while finger rolls remained. And though short hair was still fashionable, it was generally worn longer than in the twenties.
1930's Wedding Make-Up
If the twenties were influenced by the Great War, so the thirties were influenced by the Great Depression.
Pockets were not so deep, and make-up was applied with a lighter hand than in the twenties. The overall impression of the thirties was a more subdued, conservative look. Lipstick was still popular, but following the exaggerated cupid's bow of the twenties, the dominant fashion was for an au naturel shape.
1920's and 1930's Wedding Veils
Characteristic of the vintage trends of the twenties and thirties was the stunning birdcage veil, typically adorned with lace and beading.
The sinamay base (stiff woven fabric) sits to one side of the head, with the veil covering one eye, and usually finishes just above the nose.
Headbands were also popular and could be equally ornate (though not incorporating a veil they are, of course, less bridal). Headbands would often have a brooch to one side, perhaps embellished with a cameo or feather/s, and almost certainly bejewelled with pearls or gemstones.
For something a little more traditional, you could choose the Juliet cap; closer in style to the classic veil: it is longer, and gathered into a bonnet shape that sits atop the head.
1920's and 1930's Wedding Tiaras
In comparison to the veil, these are not so characteristic of this era. Should your headpiece of choice be the tiara, the following trends may be applied to them.
1920's and 1930's Wedding Jewellery
Moving away from the Art Nouveau movement, the roaring twenties (and thirties) was the period of Art Deco, and this is clear from the geometric and scallop-shaped jewellery of the era (think Gatsby opulence).
Also fashionable were long strands of layered pearl necklaces, or the Sautoir – a long necklace often worn looped around the front of the neck, with the length dropping down the back – titillating (for the times) when worn with a backless dress!
Exquisite chokers, rings and bracelets decorated with intricate filigree were also popular.
The trend in terms of gemstones was for pavé set fine diamonds, with little regard for cost; usually they would be cut into emerald, triangular or rectangular shapes and accented with calibre cut sapphire, rubies, onyx or emeralds.
1920's and 1930's Wedding Shoes
Shoes tended to be relatively simple, typically Mary Jane style, with a rounded toe and modest heel of just an inch or two.
There may be some intricate detail where the strap joined the shoe, but otherwise heels would typically be the only part of one's outfit not to be lavishly elaborate.
(It's worth noting here that a hugely fashionable item that goes hand in hand with shoes, is the seamed stocking. They became trendy in the twenties and remained so into the forties and fifties.)
1920's and 1930's Wedding Bags
The fashion of the times was small, highly ornamental (heavy beading was once again common), and often inspired by the Art Deco period.
1920's and 1930's Wedding Inspiration:
Shop Twenties and Thirties Inspired Wedding Accessories:
1940's Vintage Wedding Style
Wartime weddings meant continued austerity and plain wedding dress styles continued, with practicality being the main consideration.
1940's Wedding Hair
This era was influenced by the Second World War, even down to the iconic Victory Roll, so-called for a fighter plane manoeuvre. The popular coiffure was fashioned by pinning a roll of hair at either side of the parting, from the forehead to the crown.
1940's Wedding Make-Up
The forties was known for rationing and shortages, and make-up was not exempt.
The typical style incorporated the severely plucked brow (made popular the previous decade), neutral eye make-up, and a strong red lip. Foundation had become more common and a slightly darker complexion than the natural tone was also fashionable, with rosy cheeks.
The impression was modest and elegant.
1940's Wedding Veils
The forties veil was often moderately short (though perhaps a little longer than the birdcage of the previous decades), and likely to cascade from a pillbox hat or a relatively simple tiara.
The era was more conservative and less extravagant.
Related Posts:
1940's Wedding Jewellery
Influenced by the war, the fashion was again less ostentatious, with jewellery kept modest.
Much of the gold, platinum and silver were required to fund the war, resulting in military-inspired trends becoming fashionable. Synthetic or recycled gems became common, and embellishment became the new fashion of the times: bows and ribbons were incorporated into less lavish jewellery.
1940's Wedding Shoes
In keeping with the reserved attitude of the forties, footwear was similar to the previous decades, with Mary Jane trends common, perhaps with a T-bar if the ladies were feeling adventurous! (It was not unusual to see a slingback and slightly higher heel if the women were inclined to go really wild, and colourful shoes were also popular.)
1940's Wedding Bags
A slightly larger envelope-style bag worn on the hip would be typical of the forties.
Alternatively, a dressier evening bag might be similar in size and made of fabric, with a clasp opening, and embellished with beading.
1940's Wedding Inspiration:
Shop Forties Inspired Wedding Accessories:
1950's Vintage Wedding Fashion
After the war, focus returned to fashion – including for vintage wedding dresses! Skirts became fuller but dresses remained above the ankle, drawing attention to the bride's wedding shoes. Sweetheart necklines became popular with wedding gowns often designed to have coordinating boleros for the ceremony, which would be removed for the reception to showcase a beautiful strapless gown.
1950's Wedding Hair
Typical fifties hair is all things beginning B – backcombed, bouncy, body, beehive. Think waves rather than rolls.
1950's Wedding Make-Up
The fashion of this period was demure pinks and pastels, with a step away from the pillar-box red lip of the previous decades.
It was the era of experimentation, and a variety of feminine hues in delicate palettes were in vogue.
1950's Wedding Veil
Even twenty years later, the birdcage veil was still holding its own in the fashion stakes.
By the fifties, the veil was either attached on one side as in the previous two decades, else set in the hair with slides or clips on both sides. Essentially, it was the shape of the veil that was most noticeably different, with the length mostly unchanged.
1950's Wedding Jewellery
After the austerity of World War II, restrictions were lifted and fifties designs reflected this, becoming bold and ostentatious.
Abstract shapes and mixed cut diamonds dominated the fifties, influenced by mid-century modernism. Textured gold became popular, including braiding, twisting, fluting and reeding. Turquoise was very fashionable in the fifties, as was amethyst.
1950's Wedding Shoes
Pumps became sexier in the fifties, with open sides and perhaps a peep toe (for which the trend was a slightly pointier shape during this era).
Heels were tending more towards the stiletto in style, becoming higher and more slender, which had the effect of a shapelier calf; and with full skirts ending just below the knee, the overall impression was alluring and coquettish.
1950's Wedding Bags
The handbag of the fifties was functional as well as fashionable, and the size increased to be more useable. The strap shortened from over the shoulder to over the forearm, and worn with gloves this is a very typical image of the fifties.
1950's Wedding Inspiration:
Shop Fifties Inspired Wedding Accessories: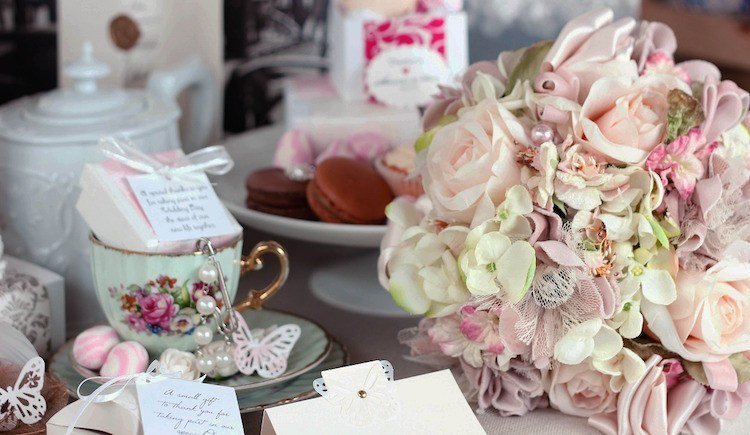 Get the Look with a Pro Vintage Wedding Stylist:
Whole of UK – Pretty Me Vintage
Scotland – Miss Dixiebelle
Central and Northern England – Bethany Jane Davies
London – Lipstick and Curls
South England – Vintage Rouge
DIY Vintage Wedding Hair and Make-Up Tutorials
If you're concerned that the look you covet for your wedding day is not achievable, check out this link for further inspiration.
With the right dress, a few make-up tricks, and accessories synonymous with your chosen era, you really can accomplish your dream guise!
Authentic Vintage Wedding Accessories
For genuine vintage wedding accessories, this website offers some fantastic options:
Alternatively, try combing your local antiques centres, where there are some surprisingly good finds to be made.
Hopefully this article will provide all the historical details you require to pull together an authentic look for your big day, not just for vintage wedding dresses but including the accessories and vintage hair and make-up too!
Just remember that it's not necessary to be historically accurate, unless you really want to be. The most important thing is to find items and vintage trends you love and feel good in – and if that means taking inspiration from different decades and eras then so be it!