When the time comes to introduce food to your little one, there are a couple of options available to you: traditional weaning or baby led weaning, or a combination of both. Anyone approaching this milestone will likely be concerned first and foremost about safety, but also – if you're anything like me – the threat to their lovely clean home! I've put together some tips for baby led weaning – gagging versus choking, and surviving the dreaded baby led weaning mess.
Why Choose Baby Led Weaning?
There are lots of potential benefits to allowing your child to feed themselves:
Encouraged autonomy, leading to reduced fussiness around food,
Tend to be more involved at family mealtimes,
Enjoy a greater range of different foods from an early age,
Confidence and ability to cope with lumpy foods from the start,
…Leading to reduced likelihood of rejecting new textures,
Increased acceptance of new foods and flavours,
Easier in terms of practical prep of foods.
It's worth noting that a lot of these benefits are anecdotal and more research is required. Nonetheless, as soon as I researched BLW I thought it sounded positive enough that I knew it would be our preferred approach, despite a few reservations…
Once upon a time, before I had a real baby and a blog baby, I was a bit of a clean freak. Think Monica in Friends – I wasn't quite that bad, but I did once have a genuine meltdown because the house wasn't clean enough and I didn't have the time to make it spotless.
Out of necessity, I've relaxed – a little. Don't get me wrong, if there were more hours in the day or days in the week then I absolutely would happily spend hours at a time scrubbing and polishing.
The happiness those hours would bring is not in the joy of cleaning itself, but in the satisfaction of having achieved the pinnacle of OCD euphoria: hygiene and tidiness. Mmmmmm.
Alas, with a crazy toddler and a hectic work schedule, I have to accept that something has to give. And I don't especially want child protection to be banging on my door, neither am I prepared to give up on my other baby, having worked tirelessly over the last few years to make it what it is today. And so, it had to be the housework.
However, just because I've tamed my inner Monica, certainly does not mean I don't still find great comfort in a clean and uncluttered home. I just have to manage my expectations a little. (Also, I've hired a cleaner.)
But people are always surprised when they come into our home at how chaotic it's not.
We generally keep on top of things relatively well. I don't know whether I should be proud that the girls are permitted only a few toys out a time, or if I should feel guilty… Particularly as there's no mistaking the fact that they've both acquired some of their mother's OCD tendencies. Oops.
Anyway, when it came to weaning Pixie onto solids, I was very unsure of how I was going to cope. I knew that from a maternal aspect I was keen to take the baby-led approach. But in terms of safety, I was nervous; and from a mess aspect, I knew it was going to stress me out – in a big way.
Being a new mother, I had to improvise. Through trial and error, we found our way, as you do.
If you want to attempt this approach and come out the other side unscathed, check out my top baby led weaning tips:
Surviving Baby Led Weaning: Gagging / Choking
1. Attend a Baby First Aid Course
Most important when it comes to weaning is to consider your baby's safety. I don't think I could have attempted baby led had I not been confident in how to deal with the hazard of choking. Having said that, you may be surprised to know that despite my anxiety, Pixie and subsequently Elfin, have always been able to right themselves without assistance.
It's worth noting when beginning baby led weaning, gagging and choking are very different and there's an important distinction: if your baby gags, that's their reflex working appropriately.
Watching a child choke is different to what you may imagine; it's when they're silent that you need to be concerned and will be required to intervene. That's why it's so important to ensure your baby is able to sit up unaided before beginning baby led weaning, and that you never leave a weaning baby alone.
Contrary to what many may have you believe, if you're careful and don't leave your baby's side, baby led weaning is safe and may have several benefits, as outlined above.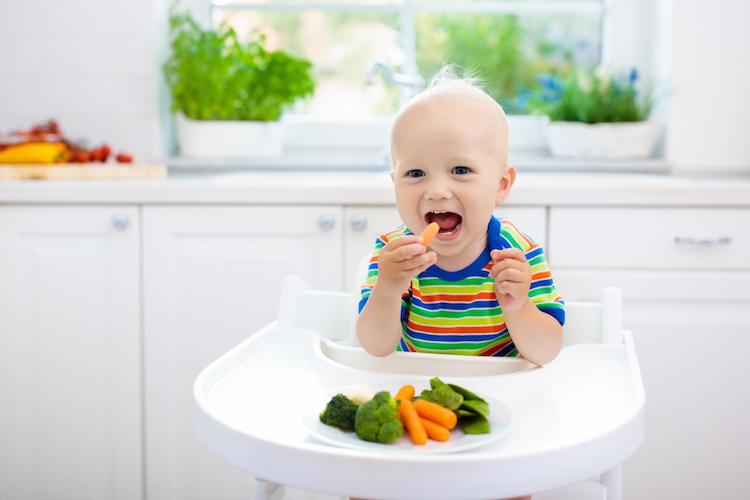 Surviving Baby Led Weaning Mess
Preparing with the right products can make all the difference to your experience of BLW; here are a few of our favourites:
2. Use the Right Type of Bib
Yes, the towelling ones are cute and pretty, but they're also perfect for absorbing orange foods which stain. (And is it me, or are all baby foods orange?) There are some brilliant bibs available which are made from a wipe clean material and have a handy lip to catch food. Worth every penny.
[Affiliate link.]
3. Strip Baby (And Maybe Yourself)
If you can't handle the thought of your baby's beautiful clothes getting covered, then even better than point one – which while good is not foolproof – do yourself a favour and strip your little rascal down to their nappy. I didn't get naked myself, but I'm not one to judge.
4. Use a Splash Mat on the Floor
Genius. You can use an old towel/shower curtain, etc – but you can also buy products specifically designed for this purpose, this one for example:
[Affiliate link.]
5. Relax
This really is the only way to remain sane. Don't just accept the mess, embrace it!
6. Buy an Awesome Highchair With Removable Tray
If you do fully embrace baby-led weaning – and you must – then most meals will finish up with the tray looking curiously like the topping of a pizza, ie. a joy to clean. Not.
Save yourself the headache and invest in a decent highchair with a removable tray (such as the Cosatto Waffle highchair for easy cleaning. You won't regret it.
[Affiliate link.]
7. Keep a Bottle of White Wine Handy
I hear it's fab for getting stains out, amongst other things…
Having embraced baby led weaning twice now, I'm delighted and relieved to say that Pixie is very good with her food, and will eat almost anything she's given. Except cake. Strange child.
Update: that didn't last forever! And Elfin has been a fan since she was allowed her first taste.
What are you most anxious about when it comes to baby led weaning: gagging / choking – or the mess? Either way, I hope these tips will help you navigate the turbulent waters of baby led weaning.