My baby has cow's milk protein allergy, and I'm breastfeeding with CMPA. When I decided to go dairy free I didn't overthink what it truly meant, because I didn't expect it to be easy. In fact, I knew it was going to be hard – I just didn't consider the many different ways it would be hard. And I certainly wasn't prepared for them all.
The reality is that eating out is no longer a simple treat: it's difficult at best and a minefield at worst; even visiting friends or family is no longer straight forward.
For allergy mums, complacency is the devil and we can never relax. Even previously established 'safe' foods must be checked. Every time.
I'm one of the lucky ones – my baby isn't anaphylactic, and she's not even contact sensitive. And still I find the relentless anxiety arduous. Because it's necessarily always there – it must be for the health of my child. In other more serious cases it's necessary for the safety of the child concerned, and that's no exaggeration.
The reality of breastfeeding with CMPA is tough on several levels; here's why:
1. The Restricted Diet
This is both trivial, and simultaneously all-encompassing: I have to be mindful of literally Every. Single. Thing that passes my lips.
Examples of foods I cannot eat whilst following a CMPA diet for fear of them making my baby poorly include basics such as (some) bread and ham. But also cheese *wah*, chocolate *double wah*, and some wine because – who knew?! – it's filtered through milk!
Just this week I was out and needed to grab a sandwich. I visited not one or two, not even three, but four – FOUR – different shops before I found something safe to eat. Granted, this is not the norm. But by that point I was feeling extremely hangry, and when the two ladies in front of me took the last two free from sandwiches, I could have cried. Thank God for the wonderful M&S ladies who helped me.
And don't even get me started on the cravings. I find they come in cycles, and at my lowest ebb literally the only thing stopping me from eating twelve portions of cheesecake in one sitting was knowing I'd be poisoning Elfin.
It's a steep learning curve, and it's a painful one for somebody who is a big lover of cake…
2. The Fear of a Reaction
Whenever I eat anything that I've not prepared myself and is not labelled, I'm taking a gamble.
In fact, scratch that – I feel like I'm taking a gamble whatever I eat because I'm not convinced we've identified all of Elfin's allergies yet. I'm always hyper aware of the tiniest mark on her face, given that's what alerted a consultant to her issues in the first place. And if she's under par I'm constantly second guessing what may have caused it.
When we're out and I need to eat, or if we're having a meal with family – it's stressful! If I ask for assistance with allergens and I'm met with anything other than absolute certainty and clear understanding of the repercussions of consuming the wrong thing, I become panicky. I cannot imagine how utterly terrifying it must be for those whose little ones are at potentially life-threatening risk.
3. The Lack of Support
Half the battle is a lack of awareness or understanding from those around us. That's not a criticism – I was guilty of this myself until I had no other choice than to get clued up, pronto. When I used to hear people talk about intolerances, I took it with a pinch of salt; it's why I ignored my daughter's horrendous CMPA rash for several weeks: I put it down to baby acne. I feel immense guilt for this, despite having her diagnosis relatively early on at just five weeks.
If you're unsure whether your baby is displaying symptoms of an allergy, you may like to read about the differences between baby acne, milia, and cow's milk allergy rash.
Allergies are actually frighteningly common. Considering how prevalent they are and that a lack of vigilance can have devastating consequences, it's crazy that there's not more education around them.
Mums breastfeeding with CMPA accept that our decision to continue feeding our babies in spite of their allergy means we have to deal with these issues, and as far as I'm concerned it's a trial run for once Elfin is on solids. Because that's when the real fun begins (I'm irrationally anxious about the prospect, because I will no longer have absolute control). It's our responsibility, but it's also a huuuuuge undertaking for the good of our baby.
In my opinion, it's both a choice and it's not: technically, I could stop. But as someone who strives to be a good mother and breastfed my first child, I'd have to be quite weak to use CMPA as a reason not do to the best for my baby. Particularly given that she arguably has more to gain from it than her sister did.
With this in mind, hearing 'have you thought about formula?' as the default response when somebody enquires as to our situation is really demoralising. But it's a fact of life, in almost every case.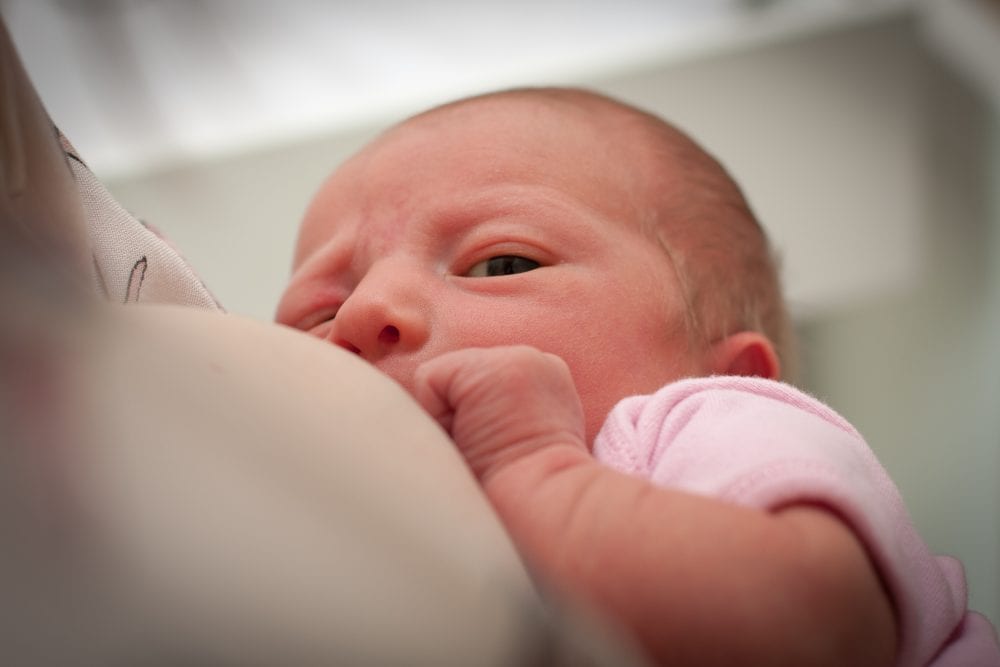 How You Can Help a Mum Who's Breastfeeding With CMPA
Sure, it's our responsibility and nobody else's, but do you know what's really, truly crap? Going for dinner and taking a dessert which the host cannot eat due to allergies. That's a no.
There have been many occasions when people are innocently inconsiderate, for example offering to buy me an ice cream before realisation dawns. I dread this torment affecting Elfin when she's older and dearly hope she outgrows her allergies before it becomes an issue.
If you want to avoid these pitfalls and help us instead, there are two things which will mean the world:
Support us. Never mention formula because – trust me – if we had any intention whatsoever of going that route, we'd have done it a long time ago. We've chosen the hard path; please stand with us and encourage us to be strong.
How? Surprise us with a treat we can eat. It means so much to me when a friend goes out of their way to ensure they have milk I can drink in their fridge, and I get allll the feels when somebody has gone to the trouble of buying safe ingredients and baking for me. (Love you Laura.)
Breastfeeding with CMPA is hard, weaning will likely be even harder (I'll still be feeding for a while, after all). I'm already feeling sad about the lack of chocolate and cheese this Christmas – although I have discovered a brilliant dairy-free chocolate truffle recipe! I'm also feeling anxious about our Christmas dinner, weeks before the event, in case I have an inadvertent slip up.
Please, don't underestimate how difficult breastfeeding with CMPA can be – your support can be the difference between us coping or feeling totally overwhelmed.
For more breastfeeding posts, head over to Breastfeeding – Help, Advice, Support.