Self care checklist covering the essentials for taking good care of your basic needs, plus inspiration for your wellbeing & self-care needs.
A Basic Self Care Checklist is Not a Basic Needs Checklist
What does self-care mean to you? Because when the term is used in its intended context, it's very positive. But when it's taken out of context, it can actually be harmful. I've been guilty in the past of equating self-care with survival, which is totally ridiculous.
That is not self-care! But I've learned a lot over the last few years, and to keep myself on track I've created a self care checklist of the things I need for my overall wellbeing.
All humans deserve to live a comfortable, fulfilling life, and that's what self-care is about.
A large part of self-care is actually making the time for it!
Tips For Making Time For Self-Care
As a busy parent I appreciate how tricky it can be finding time for ourselves. That's why being organised is so vital for me, because when life is hectic you won't find it – you have to make it. Here are a few of the things I do to streamline my life admin in order to make time for self-care:
Keep a synced calendar for everything,
Batch cook (as often as possible!),
Keep our home tidy so I don't get overwhelmed with mess,
Automate as many regular payments as possible.
Beginner's Guide to Self Care – The Basics
Once you have some processes in place to maximise the time you have available for things besides jobs and chores, it's important to consider what self-care actually looks like.
I like to think of self-care in layers.
As I mentioned earlier, survival is not really what I consider to be self-care, because of course it's the very top priority and an absolute given; beyond that there's the following very basic daily self-care checklist. And then there are those things which are first to slide when time is short.
All of them are important in their own right.
Daily Self Care Checklist
These self care daily checklist items are the bare minimum objectives we should be aiming to achieve for the benefit of our personal wellbeing:
Enough quality sleep,
Regular healthy meals,
Regular exercise,
Plenty of fresh air,
Keeping in touch with loved ones,
Drinking enough water,
Time for a daily bath or shower.
But there's so much more to self-care than just this list of basic needs. We deserve more than that and we can do better by building our lives around the slow living philosophy. In addition, we should also be shooting for these goals:
Minimising stress, relaxing, and finding pockets of joy.
Taking good care of ourselves is essential to wellbeing and there are many ways to do so, each of which may focus on a different kind of need – the ones that we can live without if we must, but we shouldn't have to.
If it makes you feel good then you should make it a priority from time to time.
Self-Care Checklist Goals
In order to live a fulfilled life, these self care checklist goals are the additional needs we should also be aiming to meet:
Relaxation
Peace and mindfulness
Personal development
Calm
Exercise
Intimacy
Connection
Value and worth
Sensuality
Self Care Checklist Ideas and Inspiration
Being a mum to small children means it's not always practical to indulge in self-care, but there are many ways of doing so – it's about being creative and snatching those moments where you can!
Sometimes it takes a little more planning – or even a lot. Not all of the following ideas will be possible for everyone, but some of the suggestions should be possible for everybody – and the others are ones to look forward to in the future, as your babies grow.
This checklist outlines the areas of our lives that require nurturing in order to ensure wellbeing, and inspiration to complement and meet those needs.
Self-Care Need: Relaxation
As busy parents it's so easy for our desires to end up at the bottom of the list. But ignoring our need for a break from being used as a climbing frame and an emotional punchbag takes its toll.
Taking the time to relax and unwind is vital to ensure we can continue being the possible parents.
Remedy: a bath, with a glass of wine and a good book
Over the past year, since Elfin has become a little less dependent on me (little being the operative word – she's my mini cling-on!), Dan has got very good at coming home from work and sending me for a bath. Not everybody will be in the position to do this and there are times I could really use the break that it's just not possible (when one of the girls is unwell for example).
But on those occasions it does happen, there's nothing I love better than running a warm bath, lighting a scented candle, and luxuriating in a peaceful bath with a good book. it's soooo welcome and the hour alone really helps me to recharge.
It's simple – but it means the world.
Self-Care Need: Peace and Mindfulness
Remedy: declutter
I always find myself coming back to:
Tidy home, tidy mind.
Living in serene surroundings is absolutely vital for my mental health, and I'd wager that many other people respond in exactly the same way to cluttered visual stimuli. The good news is that a little decluttering can be very cathartic.
One of the best things I ever did in our home was putting toy rotation in place. It's beneficial for all of us, and has really helped to scale back the mess I was struggling with. You can check out exactly how to implement this in my post about how to rotate toys for a more peaceful home.
Self-Care Need: Personal Development
Remedy: journaling
Sometimes the only thing that can quiet my busy mind is to get everything down on paper, and journaling helps me to do this. It helps me to clarify and organise my thoughts, work through difficult feelings, and make peace with them.
Journaling can be a very powerful tool for helping to notice, analyse, and process negative emotions. I see it as time invested in my mental health, and therefore it's time well spent.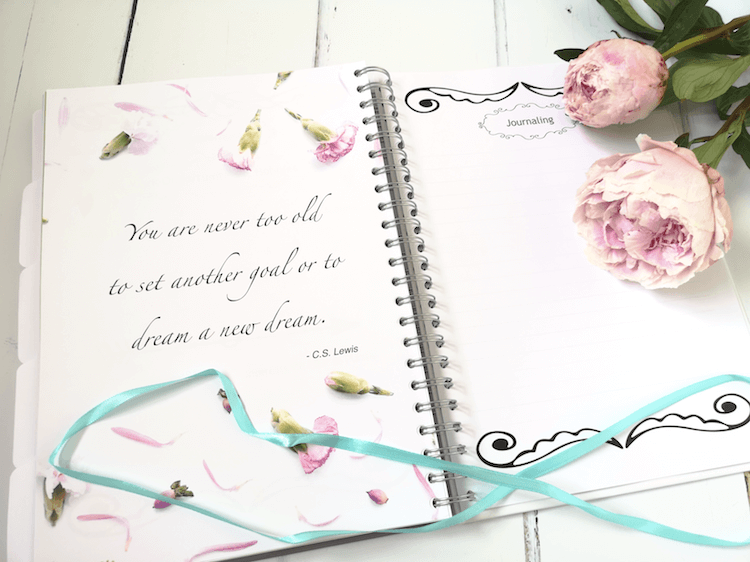 Self-Care Need: Calm and Exercise
Remedy: a run, a peaceful walk, yoga, or a swim
Going somewhere tranquil to get some fresh air can be just as restorative as visiting a salon. I always feel better after immersing myself in nature and luxuriating in the solitude of a walk alone – not that it happens very often of course!
Yoga is another activity I've discovered in the last couple of years, which is a wonderful way to feel in tune with your body and practice mindfulness.
I also enjoy a swim by myself, during which I can retreat from the world for a little while and not think about anything beyond how many lengths I've achieved. Getting the blood pumping is one of the best things you can do for your state of mind.
Years ago I used to run and I miss it. I stopped following an injury, but I'm considering trying a gentle return now my girls are getting older. Runner's high is better than any drug! If you're interested in running and tracking your progress, there are lots of great gadgets available for this purpose, from smart watches for teenagers, to ones designed specifically for women or men.
Self-Care Need: Intimacy
Remedy: a romantic date
Dan and I have started making extra effort to make time for dates again.
It's amazing how prioritising time for your relationship can lead to a greater sense of wellbeing permeating all aspects of life.
Spending quality time together, remembering the reasons we chose to live and start a family together, rediscovering our love and friendship, and – perhaps most importantly – our shared sense of humour, has re-cemented our family.
Instead of defaulting to stress and irritation when the girls act up, we're better able to diffuse the tension with fun and laughter. It doesn't always work, but it's true that mum sets the tone of the home; feeling happy in my marriage unquestionably improves my mood and resilience in the face of small people who, on a bad day, are hellbent on breaking me.
Self-Care Need: Connection
Remedy: dinner with friends
Sometimes, only good food and giggles with your girlfriends will suffice. I find wine or fizz can help too.
It's taken a good two years to get to a point where I feel I can go out for an evening, but now Elfin will actually sleep when she goes to bed (for a few hours at least…), I plan to start taking full advantage!
Reaffirming friendships (and making new ones) is also a way of rediscovering myself after a long period of being Mummy, and little else.
Self-Care Need: Value and Worth
Remedy: a material item, just for you
Yes, it's shallow. Yes, it goes against my new perspective on 'stuff', namely that it's wasteful and bad for the planet. Yet a little bit of what you fancy, from time to time, is no bad thing.
Particularly if you tend to go without, rarely spending money on yourself because your partner or children always come in front of you.
If there's something you've been coveting and you've saved up to afford it then why not actually treat yourself, rather than seeing the pennies tot up – and then spending them (yet again) on the kids? They definitely don't need more stuff (in our house at least!).
Perhaps just once in a blue moon, it would be wonderful for your soul.
I've long yearned for a pair of dazzling shades, and I was delighted to receive these gorgeous Chloe sunglasses to feature in a post last year. I lurve oversized sunnies, and because I'd never splurge on them for myself, I consider them a real treat which I'll treasure!
I do, however, occasionally allow myself a new lippie or nail varnish to make myself feel fabulous.
Self-Care Need: Sensuality
This one may sound somewhat unnecessary, but it makes my self care checklist nonetheless because it's a legitimate form of being good to yourself, just like any other.
It may be slightly less critical, a little more indulgent – but you're worth it! Especially if you have any aches and pains you've been ignoring because you don't have the time to consider your own discomfort.
Remedy: a massage or other treatment
In the past couple of years, Dan and I have treated ourselves to a couple of spa weekends with a massage treatment.
It's something I'd never think to do for myself, because I just can't justify spending that money on such a personal frivolity – but I'm beginning to think that occasionally I should.
I get it, a spa treatment may seem extravagant – but maintaining your wellbeing is not. So if you desperately need to unwind, you can comfortably afford it, and and a massage would help you with that – then there's really no reason not to.
More Self Care Checklist Activities and Ideas
Here are a few more suggestions for self-care activities to bring you joy:
Get up early to watch the sun rise
Take yourself for a walk somewhere beautiful
Sign yourself up for a class you've always fancied
Visit the sea
Indulge in your favourite food
Meditate
Book yourself a night away in a gorgeous hotel
Go on a solo date
Spend some time reading
Listen to a podcast
Treat yourself to new underwear
Do some mindful colouring
Cook your favourite meal from scratch
Take up a new hobby
Learn a new language
Write a gratitude list
See a physio about any niggling pains
Treat yourself to some beautiful new pyjamas or slippers
Go on a solo holiday to a place you'd love to visit
Get a fabulous new haircut
Self-Care Checklist Benefits
The benefits practicing self-care really cannot be overstated. In fact, not prioritising your wellbeing in this way is basically a false economy of time in my opinion, because as I'm fond of saying:
Mum sets the tone in the home.
In other words, taking care of yourself, takes care of the whole family. It enables you to be in the best, most patient frame of mind for giving your children and partner what they need from you. After all, you can't pour from an empty cup.
Plus you're modelling an important lesson for your children: to respect and prioritise your own needs.
How do you prioritise your self-care?