So you're engaged! Firstly – congratulations, this is such an exciting time! And secondly…do you know how to plan a wedding from start to finish? Fear not; I have you covered with this detailed timeline, including a printable timeline of tasks at the end of the post. This detailed wedding planning checklist – UK specific for legalities – covers everything you need to know to plan your perfect big day.
How Do I Plan a Wedding Without a Wedding Planner?
Weddings are expensive. If you're looking to save pennies, then you'll likely want to plan your wedding yourself. But where do you start with the mammoth task of arranging such a momentous event when you've never before undertaken anything more taxing than preparations for a birthday shindig?!
Start with a good wedding checklist.
What is a Wedding Timeline ?
A wedding timeline provides an ordered schedule of all the tasks required to pull together a seamless event, which can be ticked off one by one.
As I'm sure you're already figuring out, planning your nuptials is potentially a long, (long, long) monumental list of tasks. And while magazines full of pretty pictures are a fab place to start for inspiration, it can be quite a daunting undertaking – particularly if you've never before been involved in the process of planning an event on this scale.
Consider this post to be a metaphorical handhold from an expert on all things wedding.
Where Can I Find a Good Wedding Planning Checklist?
The wedding checklist (UK specific) in this post gives a clear and thorough breakdown of errands, by way of a comprehensive wedding planning timeline. There's also a printable timeline of tasks at the end of this post.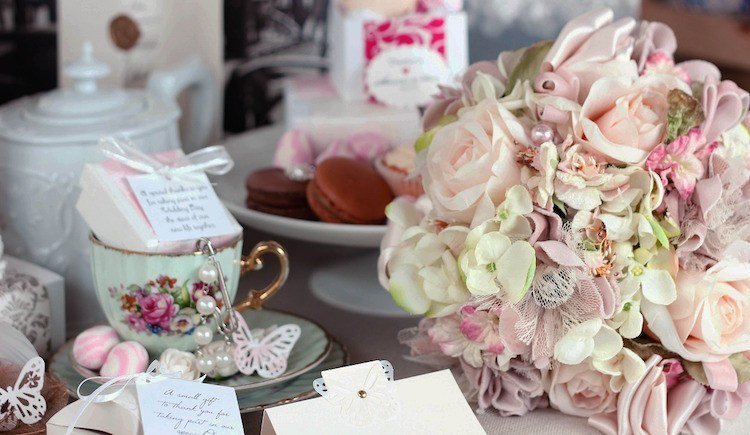 What Should Be Included on a Wedding Planning Timeline/Checklist?
Ideally, your wedding timeline will cover every item related to creating the wedding day of your dreams. It's so easy to forget administrative tasks which may seem insignificant, but can actually be vital to the success of your event!
This wedding timeline is comprehensive enough to ensure nothing will be forgotten.
What Is a Normal Wedding Timeline?
A better question might be: how long does it take to plan a wedding?
You need a minimum of 28 days to legally organise a wedding in the UK, and – realistically – significantly longer to plan one. While it is possible to arrange a wedding in as little as several weeks, if you want to enjoy the process, I'd recommend giving yourself at least six to twelve months.
This affords reasonable time for research, planning (and achieving) your budget, and booking vendors. (Be aware that popular vendors can be booked out many months – and even years – in advance. This includes venues, photographers, entertainment, etc.)
Of course, the entire operation can become far more involved if your wedding is a big celebration. The extensive wedding timeline I've drawn up is designed to make it a less convoluted and more efficient process.
Wedding Timeline – When to Do What
This largely depends on how long your engagement will be: an abundance of time means more choice available to you as to what approach you choose to take.
Essentially, the below agenda gives a suggested order of projects; but there is some admin that has critical deadlines which must be adhered to.
If you've opted to marry very quickly, there are certain requirements that must be met and it becomes important to follow the wedding timeline closely. If you've set a date, then you'll already know the timescale you're working with; if not – that is the place to start.
What is the Procedure in Planning a Wedding?
Once you have a date to work towards, the next steps to take – and crucially the ideal order in which to take them – are outlined below. (Note that although most people will work through the entire list, in actuality, the majority of suggestions are optional. Your wedding can be as complex or simple as your budget, vision and preferences permit.)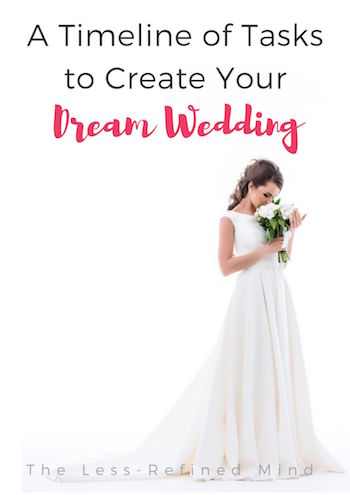 Your Wedding Timeline
To Do List – Wedding Timeline: First Tasks
Keep in mind that the date and the day of the week are likely to affect costs. And also how many invitations are declined.
I cannot stress enough how important it is to both create and stick to a budget. Working to a super tight budget? Check out four ruthless ways to slash your wedding costs.
Consider throwing an engagement party, funds permitting
Decide whether you will have a church wedding or civil ceremony
If you wish to marry in church, there are regulations in place that may make it less than straight forward.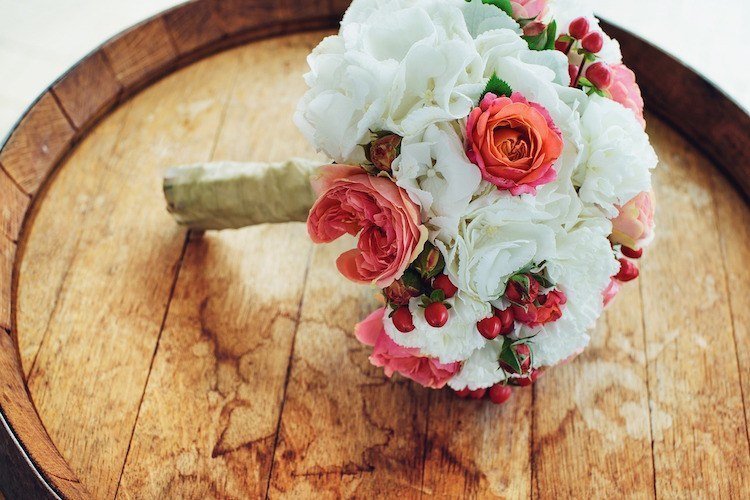 Start considering the wedding party and guest list
The size of your wedding will inevitably affect your venue and budget.
Collect wedding magazines
Or use Pinterest to start getting an idea of themes, colour schemes – and perhaps most importantly – The Dress.
Research wedding venues
Visit venues to enable you to select a favourite/s
Check chosen availability for your date
Check registrar availability for your chosen date
Secure each with a deposit – once both confirmed available
Research photographers/videographers/entertainment/florists/transport/caterers
Note some venues will have in-house caterers who you're obliged to use.
Check availability and secure with deposit
Make final decision about wedding party and tell/ask the people involved! (Ensure your bridesmaids read this!)
Most will feel honoured to be a part of your special occasion – however, weddings are expensive and this is their opportunity to opt out.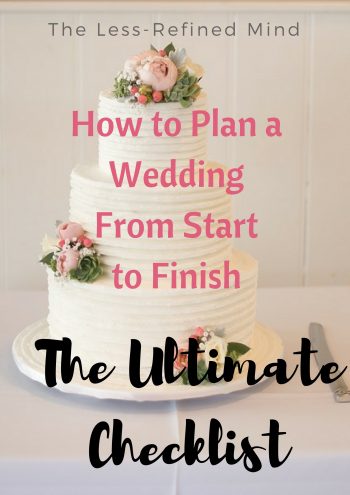 Wedding Timeline; Six – Eight Months To Go
If you've not already (as if you need reminding about this one) – go dress shopping!
Start detoxing now
Whilst I do not necessarily advocate it, if you do intend losing weight before your big day, now is the time to think about your eating habits and exercise plan. For guidance, check out this post.
Begin thinking about a honeymoon budget/destination
This is a good time to consider your gift list, if you wish to have one. It's becoming very common and widely accepted as the new norm to request monetary bequests towards your honeymoon.
Consider registering with retailers if you choose to request traditional wedding gifts
If you're tech savvy, launch a wedding site
This is a really fab way for people who are gifting cash to see where the money will be spent.
Decide how you will invite guests and purchase invitations/buy materials for your DIY project
Purchase your dress and book alterations
Dresses can be bought off the peg; but if you covet a dress made to order, including alterations, it usually takes around six months from first ordering the dress to having it fit perfectly.
Send save the date cards
Start thinking about your style for the day
Are you simply going to be yourself, or do you fancy channelling your inner Greta Garbo? This is your opportunity to go all out and emulate your revered heroine with a vintage wedding style.
Shop for bridesmaids dresses and look at suits for groomsmen
Obtain menu options from caterers and start thinking about the options
Bear in mind the limitations of pregnant or vegetarian guests and, of course, those with allergies.
Wedding Timeline; Three Months To Go
Choose and order wedding cake
Start shopping for bridal accessories (veil, tiara, jewellery, shoes, bag, underwear)
Decide whether to use hair and make-up professionals
If so, schedule trials. For help making up your mind, read my post here.
Secure with deposit if required
Select your ceremony music and provide the registrar with your option/s
Note if your wedding is non-religious, there are certain restrictions in place.
Finalise readings and submit to registrar for approval
Order/start hand-making favours
Finalise menu and flowers
Don't forget to include your photographer in the final numbers if they have accepted a meal. And be sure to request breakfast as an additional option if you're getting ready at the venue (here's why and how to get it right!).
Purchase rings
Meet with the photographer
It's important that your photographer has a good idea of your expectations for the day, including any specific shots you require. It's also a good opportunity to offer the obligatory wedding breakfast meal.
Do not underestimate how long it can take to put this together. (If you're as particular as my husband and me at any rate!)
Research and book/provide info to guests for nearby hotels
It's a good idea to slip a printed sheet of these details inside your invites.
This can also take longer than you may anticipate as you will need to acquire addresses. Once posted, it's imperative that you keep on top of the list of acceptances so that you can plan your tables in due course. And, of course, the numbers will also affect your budget.
Do not delay – pinning down a date is nigh on impossible. (I highly recommend delegating this job to your bridesmaids!)
Wedding Timeline; One Month To Go
Find a special gift for your hubby-to-be
Write speeches
This may or may not apply to you (read this for help deciding!), but you may want to keep your finger on the pulse of your husband-to-be (point him here if he needs a hand)!
Have final dress fitting
Pay final instalments
Chase RSVPs
Begin writing wedding vows
Begin assigning seating and making a table plan
My thoughts are with you for the duration of this loathsome task.
Purchase wedding party gifts
Wedding Timeline; Two Weeks To Go
Finalise wedding vows
Have your future spouse's wedding gift engraved, if required
Complete table plan
Good luck! You deserve a large glass of vino when you have this tied up!
Arrange final visit to hairdresser
Don't go for anything too drastic – just in case…
Eeeeek!
Finish any DIY projects
Burn your entrance and wedding breakfast music onto disc, and ensure it's working.
Book a massage/mani/pedi for the day before your wedding
Go on – you totally deserve it!
Wedding Timeline; The One Week Countdown
Touch base with all suppliers and ensure deliveries of cake and flowers are arranged
Delegate wedding party with tasks for the Big Day itself, and the following day
Such as ferrying the cake, entrance music, and table plan to the venue, and collecting accoutrements the next day/returning suits.
Break in your shoes
Pack for your honeymoon
Make arrangements for airport run
Just make sure the person due to take you does not have a hangover rendering them incapable – not fun at the eleventh hour…
That's all folks! Good luck – and enjoy!
(For advice about the day itself, check this post out!)
Identifying and prioritising the tasks involved with planning a wedding can be an overwhelming chore in itself. I put this wedding timeline together to seamlessly guide you through that process.
Your wedding should ultimately be precisely what you and your husband-to-be want it to be. Whether that's classy and conventional or means you flout tradition, the ceremony and reception should be a reflection of your joint personalities and styles.
By its nature then, the above list is not intended to be exhaustive. It is, however, a comprehensive starting point for the bewildered bride. I hope it allows you to feel confident in how to plan a wedding, and managing the project competently and efficiently – so you can get on with being your intended's serene sweetheart.
Wedding Checklist PDF
Download your UK wedding checklist PDF here:
If you found this post helpful and you're confident you now know how to plan a wedding from start to finish, please share this wedding planning checklist (UK specific) with your engaged friends!